We're sorry, but all tickets sales have ended because the event is expired.
PawSox Luncheon


April 4, 2018




11:30 am - 2:00 pm
Annual PawSox Luncheon

 coordinated by the Northern Rhode Island Chamber ~
Registration begins at 11:30  |  Luncheon 12-2:00 pm
The Northern Rhode Island Chamber cordially invites the members of the Central Rhode Island Chamber as well as members of Chambers from across the state, to attend the Annual Pawtucket Red Sox  Luncheon.
Keynote Speaker: 
Tony La Russa
Boston Red Sox Vice President/Special Assistant to the President of Baseball Operations
On November 2, 2017, Tony La Russa was named Vice President/Special Assistant to the President of Baseball Operations. In his new position, he will assist Dave Dombrowski in all areas of baseball operations, including player development and consultation with the major and minor league coaching staffs.
The 2018 season will mark La Russa's 57th in professional baseball, the last four of which were spent with the Arizona Diamondbacks (2014-17). In 2017 he served as Chief Baseball Analyst, advising Arizona's baseball operations department in all facets of the game. Prior to serving in that role, he spent three seasons as the Diamondbacks' Chief Baseball Officer.
Elected to the National Baseball Hall of Fame in 2014 by the Expansion Era Committee, La Russa ranks third on MLB's
all-time managerial wins list, having compiled a record of 2,728-2,365 (.536) in 33 seasons from 1979-2011 with
the Chicago White Sox (1979-86), Oakland A's (1986-95), and St. Louis Cardinals (1996-2011). He won three World
Series titles (1989, 2006, 2011) and was named BBWAA Manager of the Year four times (1983, 1988, 1992, 2002).
In 2014, La Russa was elected to the Cardinals Hall of Fame, with the club also retiring his uniform number (10).
Following his 33-year managing career, La Russa joined MLB's league office as a Special Assistant to Commissioner
Alan H. "Bud" Selig during the 2012-13 seasons. He has also served on the Commissioner's 14-member Special
Committee for On-Field Matters since December 2009.
In addition to his 33 years as a major league manager and six in an executive role, La Russa compiled a 16-year
playing career from 1962-77. The former infielder appeared in 132 major league games with the Kansas City/Oakland
A's (1963, 1968-71), Atlanta Braves (1971), and Chicago Cubs (1973). He began his managing career at only
33 years old with Double-A Knoxville in 1978, and in 1979 he managed Triple-A Iowa before taking over for the
White Sox for their final 54 games of the season.
La Russa graduated from the University of South Florida with a degree in industrial management and earned his
Juris Doctor from Florida State University in 1978, passing the Florida Bar in 1979. He and his wife, Elaine, reside
in Alamo, CA and have two daughters, Bianca and Devon. Since 1991, following Elaine's passion and sense of
urgency, Tony La Russa's Animal Rescue Foundation has dominated the family's personal time.
Fans will have the opportunity to meet team players, managers and coaches as they are introduced one day before their season.
Sponsors of this event include:
Table Sponsorships are available.
Please note: Persons registered for an event will be charged unless cancellation notice is given to the Chamber 24 hours in advance.
Venue Phone: 401-723-3200
Venue Website: http://www.twinriver.com/
Address:
100 Twin River Road, Lincoln, Rhode Island, 02865, United States
Description: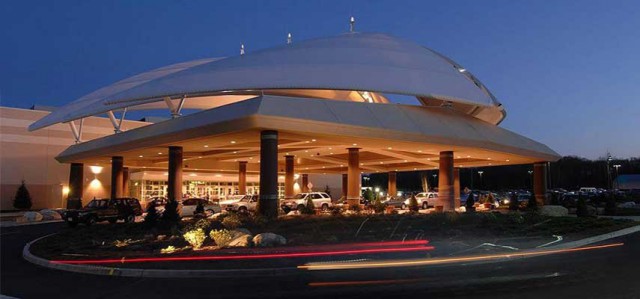 Twin River Casino, located in Lincoln, Rhode Island, is the state's largest gaming and entertainment venue as well as its top tourist and cultural attraction!
Formerly known as Lincoln Park, the renovated facility offers 162,000 square-feet of gaming space with over 5,000 gaming positions. The casino operates over 4,200 video slot machines and virtual table games (including blackjack and roulette), as well as 108 live table games including blackjack, roulette, craps, a poker room and more.
A great alternative to Connecticut & Massachusetts casinos, this unique gaming facility also hosts simulcasting of the best thoroughbred and greyhound racing from around the country, a 29,000+ square foot Twin River Event Center with headline entertainment, free concerts at the Lighthouse Bar, signature cocktails and premium cigars at Blackstone Cigar Bar, award winning beer and live music at the Shipyard Pub, as well as live comedy & karaoke every weekend at Rhodehouse Live! Home to the incredible Fred & Steve's Steakhouse, you can have an award-winning steak and seafood dinner, or enjoy the exciting sports bar scene at Wicked Good Bar & Grill, as well as 18 other dining outlets!
Twin River offers both smoking (1st Floor) and smoke-free (2nd Floor) casinos. Twin River Casino is situated just 10 minutes from Providence and less than an hour from Boston!