Event Phone: 401-732-1100
We're sorry, but all tickets sales have ended because the event is expired.
October 17, 2018 - October 19, 2018




4:30 pm - 5:00 pm
hosted by Arooga's Grille House & Sports Bar Rt. 5
A great opportunity to network with local business leaders, owners, suppliers, clients and your local community in a casual and relaxed setting.
Lite Fare – Wine-Beer-Soda-Water will be served.
Announcements and door prizes near 6:15 pm – You must be present to win.
Events must be paid prior to, or at event.If you, or any of your guests, have food allergies or special dietary restrictions please notify us within 48 hours of the event so accommodations can be made.
Bar , Restaurant , Sports & Recreation
Venue Phone: (401) 732-1230
Venue Website: http://www.aroogas.com/
Address:
615 Greenwich Avenue
,
Warwick
,
Rhode Island
,
02886
,
United States
Description:

WELCOME TO AROOGA'S!
There's never been a restaurant quite like Arooga's before. How do we know? Spies. That, and because we're not just some average, run-of-the-mill, sports bar. Nope. We're a slightly above average grille house and sports bar. That's right. Our housemade food is prepared by chefs instead of factory workers – it's better. The fresh baked bread, wings sauces, salad dressings, the housemade soups. All better. The beer is colder. The TVs, TV-er. You can see every game from every seat in the restaurant. And we mean every game, because we have every sports package available all 365 days of the year on nearly 1000 flat screen tv's between all of our locations. We've got free wi-fi, Buzztime trivia and NTN Texas Hold 'em. We've got over 80 menu items under $8.99. And several other items priced over $8.99 for the rich folks. So if you're looking for great food prepared and served by above-average people that prepare and serve great food, you'll find it at Arooga's. If you're looking for fun, you'll find that, too. If you're looking for your boyfriend and/or girlfriend, we haven't seen him and/or her. So there you go, the proof's in the pudding here at Arooga's.
AROOGA'S MISSION
Here at Arooga's Grille House & Sports Bar we strive to provide excellent food & super service to our present & future communities by utilizing the latest technology and earth conscious resources in the hospitality industry. Arooga's promises to offer our customers as well as our employees the greatest experience to keep them wanting more.
AROOGA'S 

BLIZZARD BAR SYSTEM

 

Arooga's is now serving the coldest beer in town and on the East Coast! Our Blizzard Beer System works to keepall 20 of our drafts at a chilly 29 degrees in all of our restaurants. Keep an eye on the half-keg temperature display to see the exact temperature your beer is being served at and you will know you are getting a cold, refreshing brew. 
Keeping the temperature of our beers below freezing not only makes the beer more refreshing and satisfying, but it also prevents foam and ensures that we are serving you the highest quality beer possible. Cheers!
The Carlisle Sentinel Best of the West Shore: Arooga's was voted "Best Wings" and "Best Happy Hour" by popular vote by Cumberland County, Pennsylvania residents. 
Harrisburg Magazine's Simply the Best: Six years and counting!  Arooga's received the "Best Wings" and "Best Sports Bar" awards for the sixth consecutive year in 2014.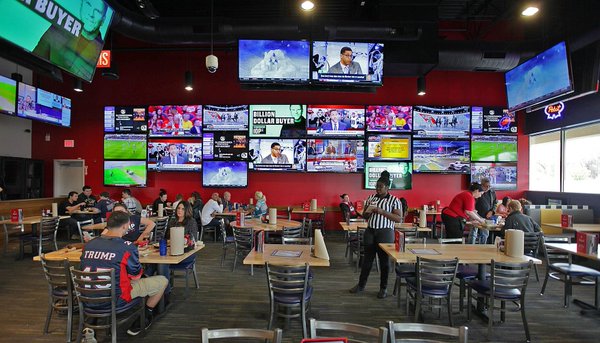 Susquehanna Style Magazine's Best of Harrisburg: Not only did Arooga's sweep six categories, but was awarded in more categories than any other recipient.  By popular vote, Arooga's was recognized in the following categories: "Best Bar Food", "Best Burger", "Best Casual Date Spot", "Best Happy Hour Spot," "Best Wings", and "Best Neighborhood Bar".
Clipper Magazine's Taste of Central Pa: By popular vote, Arooga's was awarded for "Best Bar in a Restaurant" and "Best Late Night Dining"
Central Penn Business Journal Business of the Year: Arooga's was selected as a finalist in the large business category of "Business of the Year" by a panel of judges.

---
AROOGA'S LOCATIONS