Movies In The Park - June 29, August 3, August 24


August 3, 2017




5:30 pm - 10:30 pm
Be part of the excitement!  Thousands attended last year's Movies In The Park at Rocky Point.  Presented by WAVE Federal Credit Union.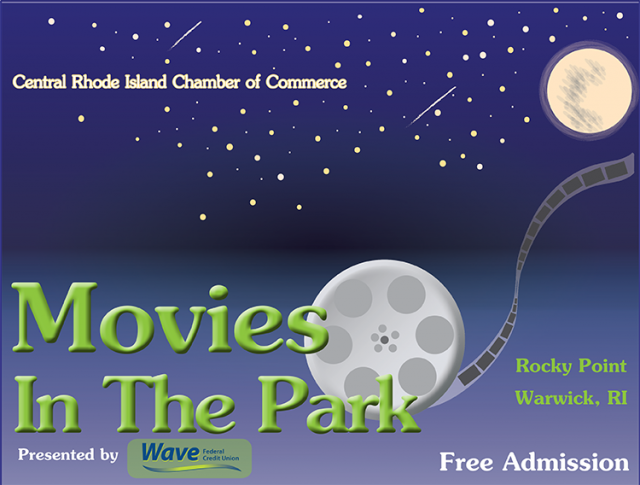 The final two Movies for 2017 are scheduled for Thursday, August 3rd | Thursday, August 24th.  Be part of this exciting community event.
The gates will open at 5:30 p.m. Food trucks will be onsite. Guests can enjoy the breathtaking view of Narragansett Bay and then find their favorite spot on the grassy field, once the mid-way of Rocky Point Amusement Park, for a family friendly movie under the stars. Admission and Parking are free. All movies begin at dusk, weather permitting.
Watch for the release of a new website featuring this year's movies, food trucks & menus, sponsors and more!
——————————————————————————————-
First reserved and paid, first served.
*Program advertisements are not exclusive.  4,000 copies will be printed in full color.  Companies are encouraged to offer discounts or coupons if applicable.
DEADLINE FOR PROGRAM ADVERTISEMENTS is June 2, 2017.  Advertisements must be paid in full by June 2, 2017 or may not be included in the program.
Location
Venue Phone: 401- 884-2010
Venue Website: http://www.riparks.com/Locations/LocationRockyPoint.html
Address:
1 Rocky Point Avenue
,
Warwick
,
Rhode Island
,
02889
,
United States
Description:
"Rocky Point State Park now serves as a memory for many Rhode Islanders of generation's past. Over the 150+ years of the property's existence, it has served as a location for nature trails, a ferry pier, an observation tower, hotels, clambakes, restaurants, swimming pool, rides, games, and concerts – but the attraction of 120 acres of land for public use within 10 miles of downtown Providence has been a consistent draw since 1850. Now as the state's newest coastal state park, visitors can enjoy the property they once made so many memories at, while the younger generations of park-goers can make new ones."  -- RI DEM Parks and Recreation