Event Phone: 401-732-1100
EVERYONE IS WELCOME


April 14, 2023




12:00 pm - 4:00 pm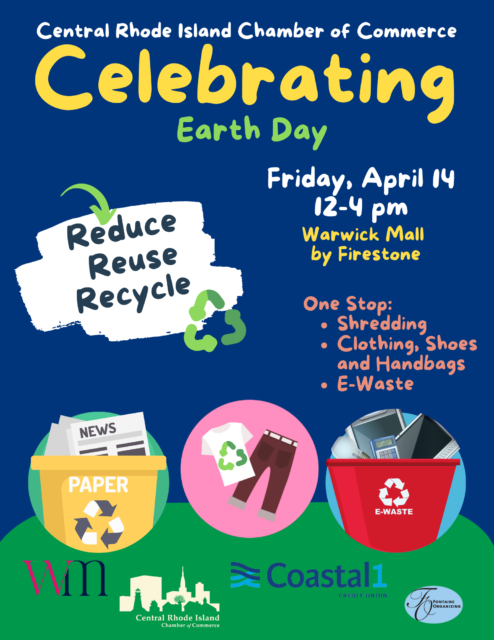 The Central RI Chamber of Commerce,
in conjunction with the Warwick Mall,
is Celebrating Earth Day with a Community Recycling Event!
Now is the time to clean out your office, basement, garage, and closets.
Thanks to our sponsors and community partners we will be offering FREE:
–E-waste recycling (Cartridge World)
–Clothing, shoes and handbags (Curbside Textile Recycling)
–Shredding of Paper (Coastal1 Credit Union) We are accepting up to 2 boxes of paper per person for complimentary shredding on site.
-Boaters can bring their Expired Flares (RI DEM Division of Law Enforcement | Disposal by RI Fire Marshall's Bomb Squad Unit)
.Approved electronic and universal waste:
TV's
Computers/CPU's
Spare computer parts
Servers
Keyboards
Monitors
Flat screens
Laptops
Network equipment
Computer Mice
Printers/copier/fax machines
Printer cartridges (ink and toner)
Stereos
Speakers
Scanners
Routers
Radios
Cables
Wires
Cell phones
Telephones
Window unit air conditioners
Microwaves
Dehumidifiers
Toaster ovens
and more!
***In addition, we will Collect Cell Phones to be given to victims of domestic violence. Donated cell phones will be given to victims of domestic abuse. The 911 emergency number will be programmed into these phones and, in case of emergency, the used will need only to press one button to be connected to the police or emergency services. Other phones will be sent to Shelter Alliance, where they'll be recycled in return for monetary compensation for the EBC Center.
Shredding Sponsored By

Entertainment , Restaurant , Retail , Shopping
Venue Phone: 401-739-7500
Venue Website: www.WarwickMall.com
Address:
400 Bald Hill Road
,
Warwick
,
02886
,
United States
Description:

YOUR FAVORITE FAMILY MALL!
Warwick Mall is an enclosed shopping mall anchored by Macy's, JCPenney, Old Navy, Target, Nordstrom Rack and Jordan's Furniture.
Check out the latest fall trends this season! Shop 80+ retailers', see a movie at Showcase Cinemas, enjoy a meal at the Carousel Food Court and fine restaurants like Longhorn Steakhouse, Red Robin, Not Your Average Joe's…or catch a sports game at Buffalo Wild Wings!