Event Phone: 401-732-1100
We're sorry, but all tickets sales have ended because the event is expired.
August 23, 2019 - February 12, 2020




8:00 am - 5:00 pm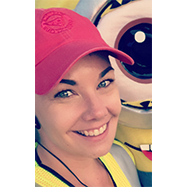 Meet Sarah Stoves.  A shy, sweet, smart, inquisitive child who grew up to be a beautiful, bright young woman. Graduating from RI College she works in Warwick, RI helping businesses and her community – All with an amazing smile. Five years ago, her smile got even brighter with the birth of her daughter.  Joy,  Compassion, Smiles were part of her everyday life and something she was known for.
In 2016, a walnut sized lump appeared on her jaw and her dentist, Dr. Robert A Conte – West Shore Dental Associates referred her to an oral surgeon. He found a tumor rooted in her jaw and diagnosed it as an Ossifying Fibroma (benign). If not removed it would continue to grow and disfigure her for life while causing multiple other medical issues. She underwent surgery and had the tumor removed. Unfortunately, it grew back, doubled in size, and continued to grow.
She was referred to Boston Medical Center – Andrew Salama MD, DDS and Steven Caldroney DDS.  She underwent 9 hours of extensive surgery as you can see from the photos. They removed more than half of her lower jaw (mandible). The talented team rebuilt her face by using a bone (fibula), soft tissue, vein and a nerve from her right leg.
It has been a long road to healing the leg, neck and face. The swelling took months but is finally down and her face is regaining its shape. Now the next challenge is to replace her teeth and return that beautiful smile. The tissue and bone surgically implanted are very delicate and replacing the teeth must be handled by an experienced team familiar with the intricacies of this procedure so as not to damage the reconstruction that was done. Not having teeth limits her ability to eat many foods, speak clearly, and share her beautiful smile with her daughter.
Although this was a medically necessary surgery, there is a significant financial gap (at least $20,000) between what insurance will cover and the work that needs to be done. We hope that you will join us to help her complete the recovery process, return her ability to eat and speak normally and bring back that beautiful smile.


Please help us return that bright beautiful Sarah smile. For each $20 gift you will receive a #sendingsarahsmiles magnet as a Thank You.  You may either pick up your magnet at the Central Rhode Island Chamber, 3288 Post Road, Warwick, RI 02886 or for a small fee we will mail it to you.
All gifts, minus direct expenses, will be used to help Sarah regain her Smile and cover medical costs. 😊
Checks can be made payable to CRICC, memo: Sending Sarah Smiles, and sent to 3288 Post Road, Warwick, RI 02886
---
A Special Thank You…
Greg Gould "All the best, Sarah! Thanks for all you do." $100
Kaitlin M "Hang in there Sarah! xo" $50
Louise Damato $20
Anonymous $50
Carolyn P $50
Jane & Fred Deming "Sarah, you are a brave, independent woman. We have watched you blossom into a beautiful wonderful woman. We love you😊❤" $50
Mary MacKillop "Wishing you good health and strength." $50
Alicia Olszewski $20
Phil Slocum "Your smile has never faded." $100
Laurie & Steve Willkomm "Prayers coming your way!" $100
James Sulanowski "Good luck Sarah! We love you!!" $20
Anonymous $ 100
Jonathan Issa  "Hope you get everything you need, you deserve it!!!" $100
Donna Caccia "GOD BLESS YOU SARAH! PRAYING FOR YOU." $100
Paul Archambault "From your friends at Wave Federal Credit Union." $100
Tara Latimer "Stay blessed Sarah"$ 20
Mary Carley $50
Patricia Lyons "Sending prayers and love!!" $ 20
Erica McQuesten "Your smile has always been beautiful to match your soul! Love you!" $100
Bob Ayers "Keep up the fight Sarah!" $100
Jeffrey Deckman "Good luck to you and remember to keep on keeping on!" $50
Bob & Lori DeGregorio "Here's to the future" $50
Connie Kirk "All the best wishes Sarah. Lov ya, Connie" $500
Brent Wyrostek $100
Diane & Len Williams "We are long time friends restaurants friends of your mother. She kept us posts of your unfortunate happenings all along the way. We are so saddens that you had to endure what happened to you. However, there is a saying that we all learn things from our experiences. I certainly hope so. Hoping for you great success as you are at the beginning of the end of your recovery. Wishing you understanding, peace, love." $100
Christina Gatteri $100
James Dugan $50
John and Linda Poloski $50
Jerold Weisman $250
Linda Jose "Prayers that you will soon be sharing your smiles" $50
Anonymous $100
Anonymous $25
Anonymous $25
Dorothy Henley $25
Wanda Grillo "Thank you for all that you do!" $20
Dottie LeBeau, The Dottie LeBeau Group Ltd $100
Anonymous $25
Anonymous $25
Aubrie Garofalo "Sarah, I am so proud of you for going through everything you have and still smiling! Ellie, Tom and I love you!"💜 $250
Larry Cicero, SoCal Solar Brokers "Good Luck and Best Wishes Sarah!" $50
Millie Savage "Good luck!" $20
Elizabeth Muzzy "Mike & I wish you the best and keep smiling!" $40
Elizabeth Dunton "Good luck!" $20
Edwin and Leona Drew $100
Navigant Credit Union $200
Carol Pratt $40
Anonymous $100
Dave's Fresh Marketplace $5,000
Louis Amitrano $50
Ann Rich $20
Anonymous $20
Anonymous $50
Jason Bianco, Helen Gilligan – Gilligan & Bianco LLC $1,000
Nancy and Bill Connors "Thinking of you." $200
Gloria Griffin $100
Elizabeth Darakji "Good luck Sarah! Looking forward to seeing your smile again!" $20
Lois Sarno $500
Liz Muzzy "Best Wishes for many smiles in your future!" $50
Corinne Riley "Best wishes for your future." $50
Corinne Riley, RI Assoc PHCC $50
Susan Lataille, Discover You Events $200
Bob Crudale, Amazing Specialties, Inc. "I hope everything works out for you,. You are a Blessed Person." $50
Don & Linda Allen $50
Joyce and Edward Guncheon $50
– $
— $
——————————–
– $
— $